Participant Quotes
"

I thank God for the person who brought us these books. They have helped us so much. If everyone had this program, then things would really change. People would start thinking about what's in the books, just like I did when I was in the program. And then they would change like I did. There is a story about a child being hit and she has bruises, and it makes you think if you were that child in that situation, you wouldn't like it at all...not at all!

"
"

There was one person who grew up as a restavek (child living in servitude). Although that person has a family now, she grew up as a restavek. She was telling us how she was mistreated. She said, "If I was staying with a woman who had this program, she wouldn't have treated me that way. She would have raised me a different way if she had been in this program. When this person was talking like that and telling you the truth, I am thinking, 'the child that's living with me, I am treating her worse than how this woman was raised.'

"
"

Before my husband used to hit me a lot and make me feel really, really bad. Ever since I shared this story with him about Jerbon, he doesn't hit me anymore. I showed the books to my children and they went to their father and said, "Look at this stuff!" It made my husband really sad. I want to thank Fonkoze and the person who made these books.

"
"

I don't know what to say about this program because I so love it. The program opened my eyes. I am a woman in misery. I have two of my girls up to say with their Godmother because I couldn't help them. Since reading the stories, I decided to take my girls back home. What hurt me the most...what pushed me the most to take my girls back was when I saw the girl abused. Immediately I was thinking of my girls. I would regret if I didn't come to the center. The person who wrote these books does not lie. The children who live with people are mistreated so much. The program should continue for all mothers.

"
"

Since my mother has been in the program, she doesn't hit us anymore. She used to hit us with a bat, whip and frete. Now she tells us we must not take her things.

"
Haitian Children and Youth Rights Project
DWA TIMOUN AK DWA JEN YO
Children and Youth Rights
EDIKASYON SE YON KONVESASYON! MWEN VLE VIV! NOU VLE VIV! E OU MENM!
Education is a Conversation: We Want to Live! I Want to Live! Don't You?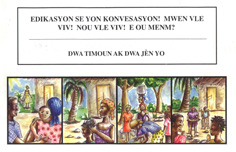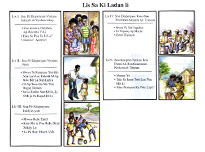 The Haitian children's right project includes stories about physical, emotional and sexual violence towards children and youth living in servitude, jealousy between siblings, parent preference for children, child molestation, poverty and child servitude, overworking children, abuse of handicapped children, teenage romance, teen pregnancy and abandonment, stealing due to peer pressure, struggles of parents to send their children to school, how and why to talk to and listen to children and youth, how to control anger towards children and youth and how treat children and youth with respect and the rights of children and youth. This program was sponsored by Fonkoze, Beyond Borders and Limye Lavi and is copyrighted by these organizations together with Kathleen Cash.
Other Programs