Participant Quotes
"

I liked this program because we really got to talk about what we think. Now I have confidence when I talk to my children and my neighbors-they listen to me. There are some words that I can use now that I couldn't use before.

"
"

Now we share what we think about a problem. Sometimes I hear my children say, 'My mother talks in a different way. Since she has been in this program, she knows a lot of things.'

"
"

You know these stories are true because it happened to you...or people you know. I love the stories.

"
"

When I came to enter the program and saw things...now I always speak to my children...like I have a daughter who is really pretty....and there are a lot of men who want to be with her...men who would give her 10 gourds to be with her...I told her now you come to me if you need money and I will give it to you...

"
"

She told me all the stories. I can say that my wife used to be embarrassed to talk about sex and condoms with me but now she has no problem. Her mind is more open. (Husband of participant)

"
EDIKASYON SE KONVESASYON: MWEN VLE VIV! NOU VLE VIV! E OU MENM?
Education is a Conversation: We Want to Live! I Want to Live! Don't You?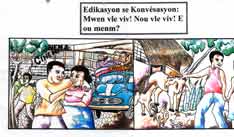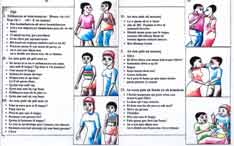 The Haitian project includes stories about migration and risk, love, pleasure, multiple partners, domestic and sexual violence, jealousy, drug and alcohol drinking and risk, adolescent peer pressure, gossip, rumors, sugar daddies, multiple partners, men who have sex with men, adolescent and adult communication, stigmatization of a person with AIDS and reproductive and sexual health education for adolescents and basic information about sexual and reproductive health including about HIV/AIDS, tuberculosis and sexual rights. The books are written in Haitian Creole. This program was sponsored by Fonkoze, Haiti and is copyrighted jointly by Kathleen Cash and Fonkoze.
Other Programs